How to Eat Healthy In College
College is full of delicious temptations. The mascot for your university might as well be pizza, it's got such a huge campus following. Eating healthy in college can be really tough. When you live in a dorm and have a meal plan you only get three cooked meals a day, so if you get hungry between classes or before bed, it's hard to find healthy options. Similarly, you quickly learn that without a meal plan, food can get really expensive!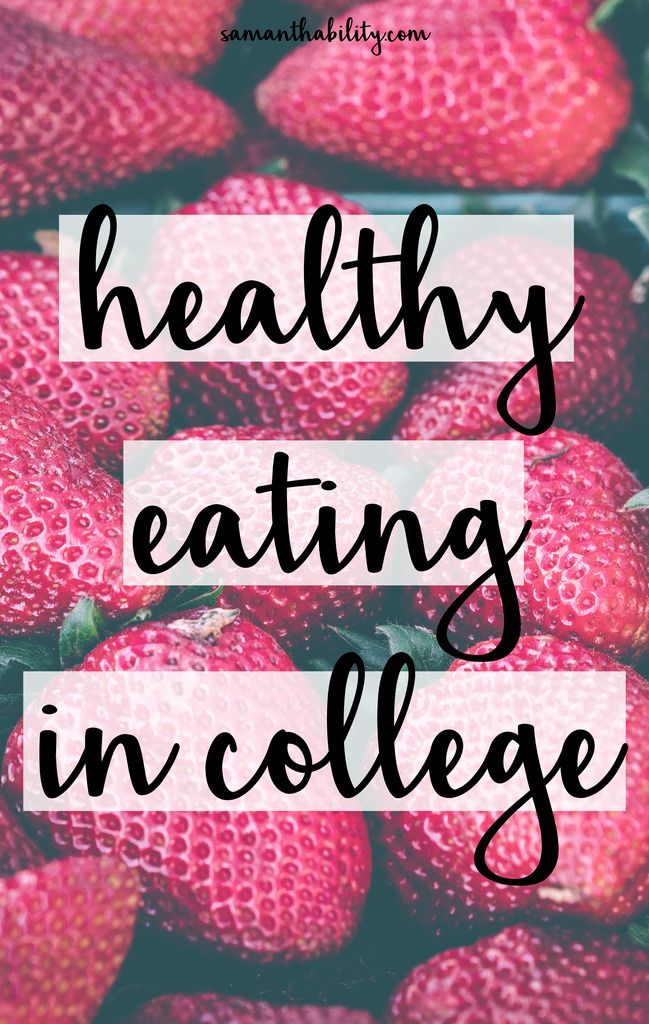 It's so much easier to eat out or eat a handful of chips rather than finding healthy options. To help combat these temptations, I've compiled some tips for healthy eating in college!
Fruit is a godsend for college students everywhere! It's relatively inexpensive, especially if you buy it in bulk, it can be frozen, and it's delicious! My favorite class snacks include bananas and apples because they're so quick to grab. Apples are also an appetite suppressant so eating one will keep you feeling full for a while and keep you from snacking on less healthy junk. Fruit can easily be kept in a dorm refrigerator, and it can be found at any supermarket. Even better, buy local and in season fruits for a better deal!
Here's some ideas to get you started
Create a fruit salad
Include a side of fruit with your next entre: it's filling and yummy.
Freeze peeled bananas for at least 24 hours and enjoy a frozen yogurt-esque snack! (Check out this link for more information on the wonders of frozen bananas)
Make a filling smoothie for breakfast (Check out these ideas here!)
Add fruit to your salad to make it more enjoyable
Dip slices of apples in ranch, yogurt, or peanut butter for a great snack
Create fruit popsicles!
Mix some fruit with greek yogurt
Grab some extra bananas, apples, oranges, or whatever is offered in your dinning hall and take them to-go for later!
Not sweet enough? Try dipping cut strawberries into a little bit of sugar! Or into a low-fat chocolate sauce or Nutella. These snacks are enough to quell my sweet tooth and keep me from feeling too guilty.
Snacks are my biggest weakness in college. When under stress, your body searches for easy cures like sugar which lowers stress hormones. I know that sleeve of Oreos sounds so perfect, but the guilt and yucky-feeling after won't be worth it, I promise! Instead, try to find snacks that you look forward to. If you enjoy eating them, you're more likely to actually eat them. Also, look for quick snacks. I know when I'm stressed I want to grab something easy, rather than have to actually cook or prep something. Here's some ideas to get you started!
Cheese and crackers – try to find crackers with low sodium. Gluten free and baked options are usually the healthiest, but I wouldn't stress too much. I like to buy a block of my favorite cheese and cut it into thin slices and munch away. There's so many cheeses, try for healthier low-fat or skim cheeses with a low calorie count.
Greek yogurt – Some of these can come with hefty amounts of sugar, so be sure to read the label. Greek yogurt is great because it's super yummy and contains a good amount of protein, unlike regular yogurt. It's not hard to make, if you'd prefer to make it yourself.
Granola bars – These are quick and easy to take to class. I usually leave one in my purse in case I get hungry when I'm out.
Cereal – I love eating cereal all day, I don't care if it's morning or midnight. Stay away from sugary cereals, and opt instead for plain cheerios or a granola based cereal. Substitute almond or skim milk rather than regular milk, and eat away! Add a little bit of sugar or fruit to get the sweet flavor you crave.
Popcorn – Popcorn is wonderful because you can get the stuffing-your-face sensation without the calories. It's really easy to make your own microwave popcorn, or buy a microwave popper. The kernels can be purchased at most supermarkets. This method is much better than store bought because you can control the amount of added salt and butter. Tip: use olive oil instead of butter! If you must buy microwavable bags, buy a low-salt and low-butter healthy option.
Dark chocolate – This darker version of your favorite indulgence has many more added health benefits and often is enough to quell your sweet tooth.
Still need to eat your favorite junk snacks? Buy them in individual portioned bags. Check the snack aisle of your grocery store and you'll find those prepackaged snack options usually used for lunches. These are great because you're limited to the smaller serving size of the bag, rather than having to find the self control when eating a large bag of chips for example.
I know it's so very tempting to reach for a Red Bull when cramming for that test you forgot you had tomorrow, but those things are packed with an alarming amount of weird stuff! A lot of caffeine products can become addictive, not to mention they are packed with sugar. Sometimes you just really need energy in college, so try these instead of that Monster drink.
V8 Energy Fusion – This is a much healthier alternative to Red Bull. One of these cans contains a full serving of fruits and vegetables, and packs the same amount of energy as an 8 ounce cup of coffee. The energy comes from green tea, so it's more natural than other store bought products. Also, it's only 50 calories and there's a new sparkling and diet option. These are super yummy, and I take one to work almost every day.
Tea – So many teas contain energizing properties, and if you aren't trying them, then you are missing out! I like to use a tea infuser to make my teas, and they are great for class. There's a flavor for everyone, my favorite of the moment is pumpkin spice.
Coffee – In moderation, coffee is already a healthy beverage. Try not to drink more than one cup a day, and recognize if you are becoming dependent. It could be useful to wane off coffee for a few weeks if necessary. Tip: staying away from coffee for a few weeks will help it give you that buzz you crave when you start drinking it again! Avoid the urge to drink sugary coffees filed with creamer and other flavors (like my personal addiction to Starbucks White Chocolate Mocha). Drink your coffee black, if you can, or add skim or almond milk rather than cream and sugar.
I hope you keep these in mind the next time you feel like ordering pizza at midnight! It's important to be healthy while you're young, but remember you're in college! You deserve to eat what you want and indulge every once in a while! Just keep it in moderation, and you'll be fine. Happy eating!
Do you have any healthy eating college tips? Share them in the comments!
Disclaimer: All of the opinions expressed here were my own. I was not compensated for the inclusion of any products or companies in this post.