Hi there! This post has recently been re-published new discounts and more helpful information. Check out the new post on how to start a blog here. 
By far, one of the most frequent questions I get as a blogger is how to start your own successful college blog and start making money. College blogs are becoming really popular, and they're a great way to share your experience and tips with others while building valuable career experience! You don't need to be a computer science major to start your own blog, so don't stress! You just need some patience and creativity! Here is my step-by-step guide for how to start a college blog and start making money!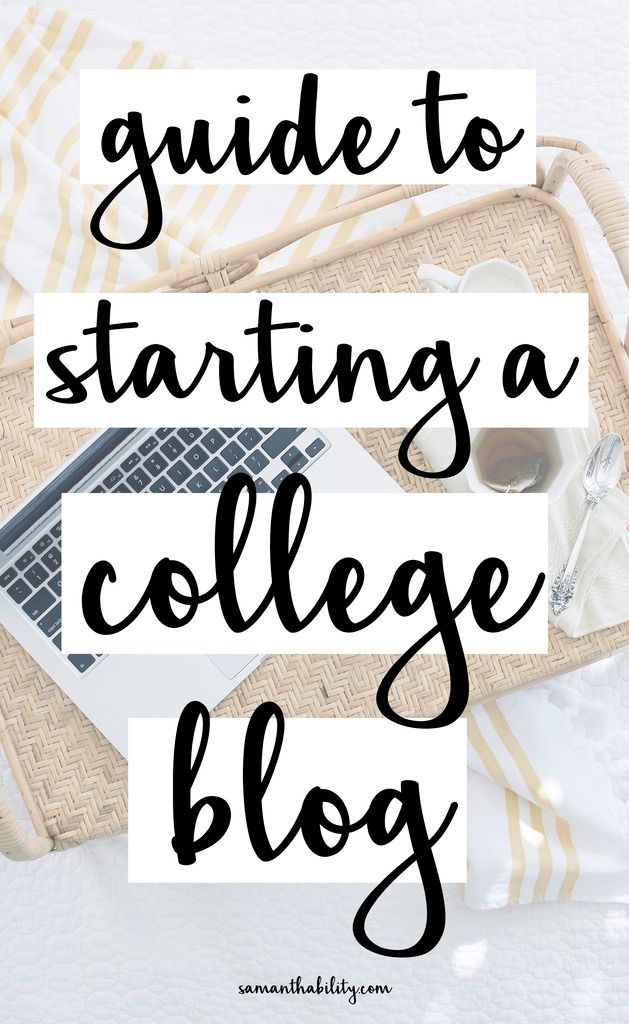 I think in this day and age, everyone needs their own blog whether they post in-depth articles or they just upload selfies of themselves. Blogs are taking over the world, and they are fast becoming a great way to earn a legitimate income! Here are just a few of the many reasons to start a blog in college:
It serves as a virtual resume. What better way to share your writing, social media, projects, and business skills than through a website? I always list my blog on my resume and it's an easy way to stand out from the competition.
Networking. Blogs are a great way to network with other individuals and companies! I have connected with a number of representatives and CEO's through my blog, and I've made great blogger friends!
Career skills. Managing a blog requires patience, energy, and time management skills! Not to mention you'll be doing a lot of writing, advertising, and communicating! These are all super helpful for a future career!
Income! Possibly the best part of starting a blog is being able to use it as a tool to generate side income! It can even become a full-time job!
There's a common misconception that you have to be a computer genius to start a blog. This is not the case. Modern web hosts like HostGator are easy to use and walk you through the process of setting up a website without any need to learn how to code or program. WordPress, my favorite blogging platform, makes maintaining your blog a breeze. Plus, there are a lot of great free or inexpensive themes available if you don't feel comfortable making one yourself.
The first thing you need to do is decide whether you want to pay for hosting or set up a free blog. Sites like WordPress allow users to set up a free WordPress hosted blog, but there are drawbacks to free hosting. For example, they're technically the owners of all your content, and you don't have many options for monetization your blog. If you can afford it, I would definitely recommend a self-hosted website. These aren't much money at all, and if you follow this tutorial you can get 25% off an already inexpensive hosting package through HostGator.
Once you've decided where your blog will be hosted, it's time to choose a name. I recommend choosing a name you know you won't outgrow anytime soon. Avoid using slang or trendy words which will lose momentum as influence changes. I chose my blog name because it's 1) the name of one of my childhood blogs (yes, I was that 11-year-old dweeb with a blog) and 2) it includes my name which I will never outgrow.
It's also worth considering your target audience. Here at Samanthability, I focus my content towards young women between the ages of 16 – 24. Of course, this isn't set in stone, but it helps me focus my content in a way that is useful to a certain demographic. My "niche," or focus, is on college/millennial lifestyle. I focus on things that college women and recent graduates would be interested in, like academic posts, inexpensive travel, and career advice. Consider what you want your own niche to be, and work from there.
Alright, so you've decided a self-hosted blog is right for you, now let's get started. First, we need to set up the hosting. For the purpose of this tutorial, I will be using HostGator because I've tried several hosts over the years and this is my personal favorite. They're really user-friendly, and their one-step WordPress install feature makes life way easier. If you choose to sign up with HostGator, I have a coupon code that can save you 25% on your entire plan!
On HostGator.com click "get started" to choose your plan. You'll be presented with a few different options, but you really only need the smallest plan. The bigger ones are good for larger companies and people who need advanced features, but for a personal blog, the "Hatchling" plan is more than enough!
Once you've chosen your plan, you'll be walked through the rest of the process. At this point, you are prompted to choose your domain name. As you type in your name, you'll see whether or not it's taken as well as additional name recommendations. I recommend going with a .com domain whenever possible! In addition to checking your domain name here, make sure social account handles are available with that name too. Nameck is a free search engine which lets you quickly know whether or not popular platforms like Twitter and Facebook are available with that name!
Next, you'll be asked to create an account. Choose a username and a verification pin. This is where you select your billing cycle. In general, the more you pay up front, the cheaper it is. For example, paying for the entire year of hosting at once is cheaper than paying monthly. This is completely up to you!
Continue through the registration process, entering your billing and account information.
I personally opted out of all the add-on services because I don't think a personal blog really needs them, but this is up to you. Now, you'll be able to enter my coupon code for 25% off!  The code is SAMANTHABILITY.
When you're ready to submit, click checkout to complete your registration process!
Installing WordPress
Note your website might take up to 48 hours to process, so don't freak if there's nothing there yet! Luckily, installing WordPress is super simple through HostGator. Just log into your account and click "hosting" to view the hosting panel. Under "Special Offers," click "Get started with WordPress." You'll be redirected to a different page.
In the QuickInstall portal, click "Quick install" to install WordPress on your blog!
That's seriously it! I know, it's that simple!
Now that your blog is all set up you're ready to start posting! Here are some tips for successfully launching a blog:
Have at least 4-5 posts already published before you officially promote your blog, that way your viewers have more than one post to look at!
Don't stress about page views at first, things will build momentum naturally!
Pinterest is your best friend! You don't need any graphic design experience to make killer Pinterest graphics. I like Canva and PicMonkey the best.
Join other blogger groups on Facebook for support!
Install the YoastSEO WordPress plugin to easily implement search engine boosting practices on your blog!
College Blogging 101
Once your blog is up and running, it's time to creating sharable content and monetizing! I've got a free 5-day course that helps you get started and shares my best tips for making money blogging! Sign up for the free course below!
This post contains affiliate links. Choosing to click on these links gives me a small commission. However, all thoughts and opinions are my own! Learn more about my affiliate policy here.