The Best Free Apps for College Students
Maybe I'm more than a little bit dependent on technology. But, hey, I'm a millennial, I think it's in my DNA. There are so many apps available free to download that can make life much easier! This guide applies not only to college students, but also to anyone that wants increased productivity on their phones. All these apps are downloadable on Apple devices, I'm not sure about other systems, but I'm sure they're there as well! Enjoy!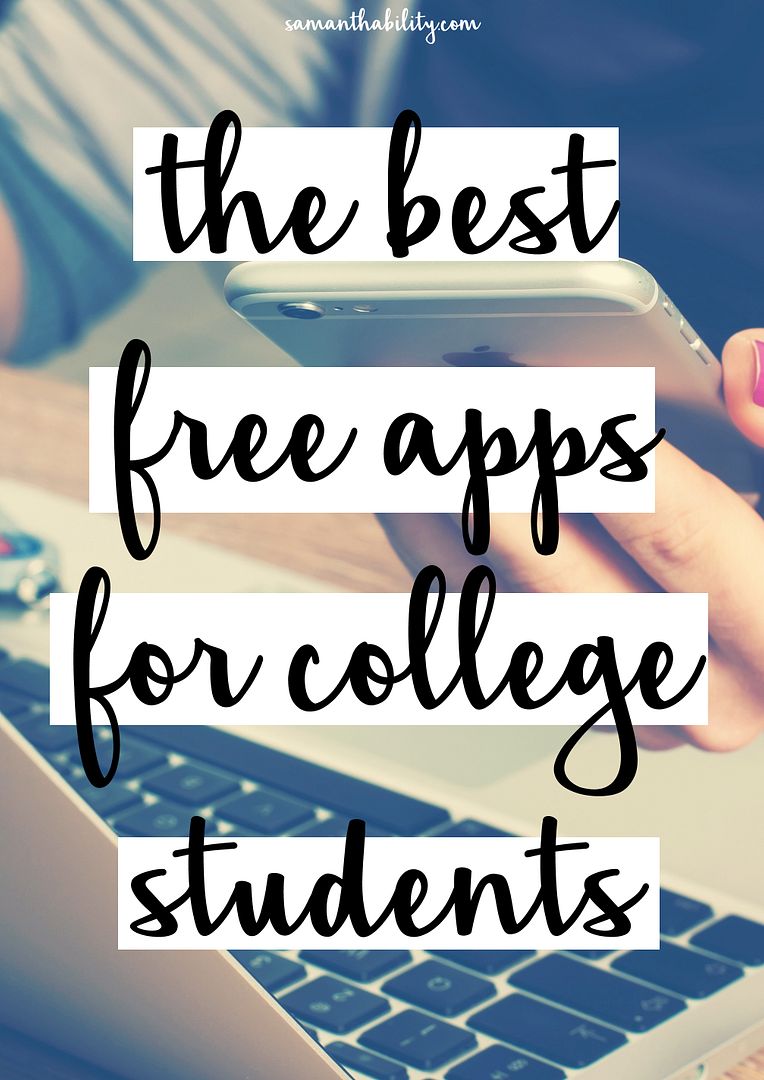 Microsoft Word – This is a great reading and editing app for all of your classwork. I like to write my essays on the go, or at work, and I've gotten really good at mastering the tiny iPhone screen. This is the same version of Microsoft available on your PC, and you can save and send documents just as you would on your computer. Microsoft also has versions of all your other favorite school programs (Excel, PowerPoint, etc…) available for your phone. This app is best for proofreading, in my opinion, or viewing notes if you type them out. You can also upload things to your OneDrive (see below).
OneDrive – OneDrive is Microsoft's free online storage system. All you need is a Microsoft account and you can upload all your files for access on the go. This is especially important in college because you'll likely switch devices frequently. For example, I work on the library computers as well as my home laptop sometimes, so it's convenient to have everything stored in one place. Onedrive allows you to view all your files on the go.
Groupon – If you haven't checked out Groupon, you really must. It offers discounted goods, services, and experiences available for a limited time. This is a good way to do fun activities or eat out at a nice restaurant without breaking the bank. I spent my whole summer doing Groupon activities, it's the only way I could afford to on a college budget! They also have a ton of great vacation packages.
Accuweather – This is by far my favorite weather app. It's different than other apps because it gives you an actual count down to rain or other weather forecasts. It'll say something like "Rain expected in 10 minutes," and it is surprisingly accurate. Getting caught in a torrential downpour (Florida school problems) before class is the worst. There's nothing that sucks more than sitting in class freezing and soaked all day! Get this app so you always know when to pack your umbrella and rain boots!
8Tracks – Music is really important, and there's a lot of different apps promising you they're the best. 8Tracks is different than other apps like Pandora and Spotify because all their soundtracks are created 100% by users. You can even create your own and follow users with similar music tastes! You can search playlists by really unique tags like "2 am crying" (no joke, this is a great tag) and "Gryffindor vibes." There's also less advertisements than most other music streaming websites, so that's always a plus.
Sworkit Lite – Sworkit offers a variety of paid apps, but their free Lite version is enough for me. These apps are great for fitting in workouts into the limited time you have. I even use this at the gym sometimes because it's that great. You enter the amount of time you have to workout, the muscles you want to target, and it helps you through a workout complete with videos, breaks, and music. No equipment is necessary, it's all body resistance training, so you can do this anywhere! There's also a point system which offers rewards for social media shares and completing workouts.
Sleep Cycle ($0.99) – This is the only paid app I included, but hear me out! Sleep Cycle is an awesome way to wake up feeling more refreshed. It gets to know your sleep cycle and it wakes you up accordingly at the best time for you. You enter the time you want to wake up by, and set your phone near your head on your bed as you sleep. It'll track your sleep patterns and gently wake you when you're most likely to be refreshed. It has some great reviews, and anything that promises to make waking up less awful sounds great to me!
Uber – If you live in a city with Uber, you're in luck! Uber is a safe, inexpensive way to get a ride from point A to point B. I've used Uber a number of times, and for the most part have had really great experiences. It's definitely much cheaper than a cab, and you can see the rating of the driver before they pick you up. All the drivers go through background checks, so you can be sure you'll be safe. This app is perfect for nights out, as you wont have to worry about a designated driver or sobering up. It's simple to set your pickup location, and drivers are usually there within ten minutes.
VSCO Cam – This is my favorite image editing app! It comes with really awesome filters, and more editing options than Instagram. It also has it's own upload stream and profile, but I don't use that much. There's a lot of tutorials available on how to edit your pictures to perfection using VSCO cam, check here and here.
What apps do you like to use to stay productive?
All of these opinions are entirely my own. I was not compensated in any way for this post.