The Summer Before College: 10 Things You Must Do
The summer before you start college can be both scary and exciting! You're super pumped to move into the dorm, but you're also a little terrified about leaving home. Here are some things you can do the summer before college to make the transition smooth and seamless!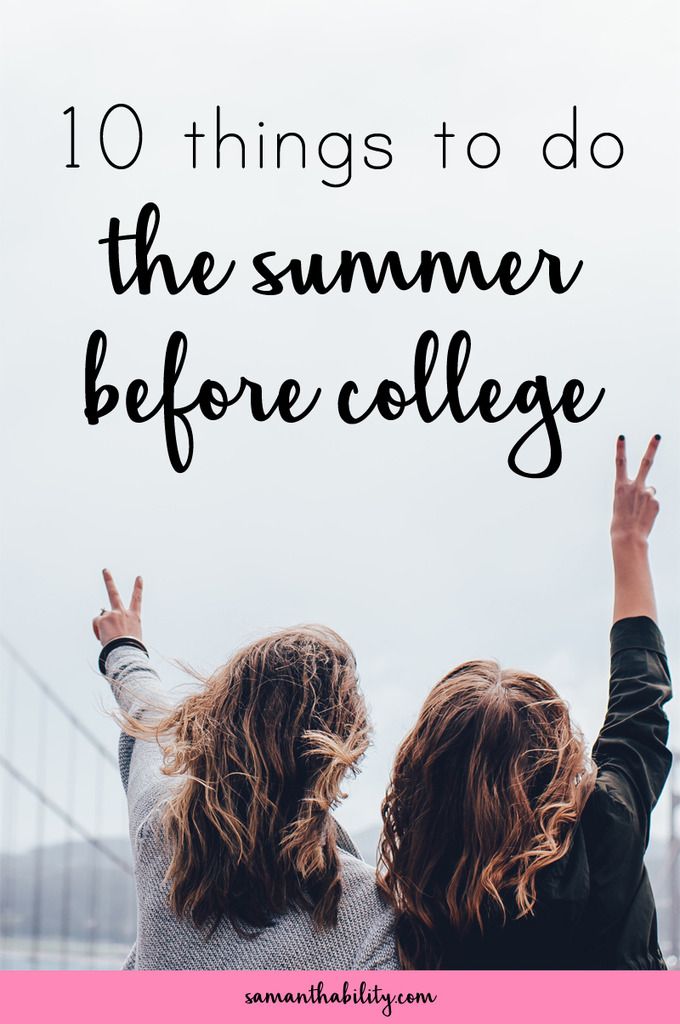 Get in touch with your roommate.
If you're moving away to college, odds are you will be paired with a roommate you have never met before. Your college will likely email you your roommate or let you know who he/she is in some way during the summer. Don't be shy! Reach out to him/her and introduce yourself. They're just as worried about meeting you as you are them. Your roommate is your first connection to your college, and likely they will be your first friend. Ask your roommate what he/she's bringing to the dorm, and coordinate accordingly. Ask when they plan to move in, and maybe even set up a meeting time so you can go to orientation together! Chatting with your roommate in advance will help you ease your initial fears. You'll feel better knowing at least one person before move in day!
Join your classes Facebook group.
This is the 21st century. Your class likely has a Facebook group you can join and interact with future classmates. My class Facebook group has been an active source of information for my entire time in college, and I'm in my senior year! This is a good place to ask any questions or even reach out to people with similar class schedules. You can coordinate meet up groups for orientation, or plan a club meeting!
Create a dorm shopping list.
If you've never lived in a dorm before, you're going to need to go shopping for some essentials. There's a lot to keep in mind when dorm shopping. You definitely don't want to get too much stuff, but you also don't want to be left without something important! During my summer before college, I didn't do my shopping all at once. Rather, I did it in smaller, more reasonable trips. This was helpful because it not only broke up the cost, it also allowed me to remember more important things later in case I forgot them in one trip. Another idea that's particularly helpful if you need to fly to campus is to do all your shopping once you move in. I did a little bit of this myself, even though my school is only a few hours away from home. Some larger things like bedding are easier to buy near campus rather than lugging them across the country! Some schools might let you ship your stuff during the summer, so that's an option too! Hayle Olsen has a great college shopping list which should get you started!
Buy textbooks.
It can be really helpful to get ahold of the necessary textbooks before classes start. I suggest starting this as early as possible so you have time to shop around for prices and the best deals. A lot of times you can find a book list for your campus early in the summer before college, and this is a good resource for beginning your shopping. Need some help saving money? Check out my guide on saving money buying textbooks. 
Get a part-time job.
Getting a part-time job is a great way to earn extra money the summer before college. Whether you are receiving scholarships, taking out loans, or paying out of pocket for school, college can get really expensive! You'll be thankful for the extra spending money once you get to campus! If you'd rather work on your own schedule, you can think outside the box when it comes to part-time jobs. For example, I make 500$+ a month with freelance gigs online.
Go on a trip. 
Whether you're a world traveler, or you have stayed close to home, the summer before college is a great time to step outside of your comfort zone by traveling to a new place! Take a road trip with friends around your state, or just enjoy a staycation closer to home. This is a great opportunity to gain independence and freedom. I have a handy list of ways to travel cheaply in your 20s that is perfect for the summer before college.
Relax. 
College is crazy. Odds are, you'll find very few chances to relax in between exams and essays. Soak up the free time you have during the summer before college and seriously cherish it! Get your nails done, watch cartoons, do whatever makes you happy! It's vital that you use the summer to recharge!
Take Gen-Ed classes.
I know, I know, the last thing you want to do with your summer vacation before college is to take classes. I mean, isn't that what you'll be doing for the next four years? Taking one or two of the general education classes during the summer at a local community college is a great way to get a head start on your credit hours! I was able to start as a second-semester freshman (three credits from a sophomore!) because I had so many college credits out of the way. This has made college more affordable for me since I will only need three years, rather than four. Taking these gen ed's now will let you spend more time on classes you enjoy! For example, if you seriously hate math, consider taking a math course the summer before college. That way, you only have one class and can focus more time on it during the summer rather than the semester when you already have so many other classes! Talk with your college about transient study at a local school.
Start a college blog.
Starting a college blog might seem daunting, but it's really much easier than you think. I have a step by step guide to getting started here. A college blog is a great way to network your skills and interests. It serves as an online portfolio for your talents and abilities. Trust me, it'll seriously impress any future employers! Starting a blog is easy, but it does take a little bit of time to get up and running. That's why it's worth starting a blog BEFORE college so that you're already good to go when the semester starts.
Get excited!
The summer before college is so exciting! You have the feeling of standing in front of something big! Let yourself be happy and celebrate the achievements that have gotten you here in the first place! Allow yourself to worry, but don't stress too much! It's going to be great!
Do you have any summer before college tips?