This month marks three whole months of being vegan! Going vegan in college is a great way to improve your health while also helping the environment! College is a great time to explore different ways to be healthy, and a lot of millennials are choosing veggies over meat nowadays. While being vegan is super rewarding, it can present some challenges. Here are some tips for being vegan in college!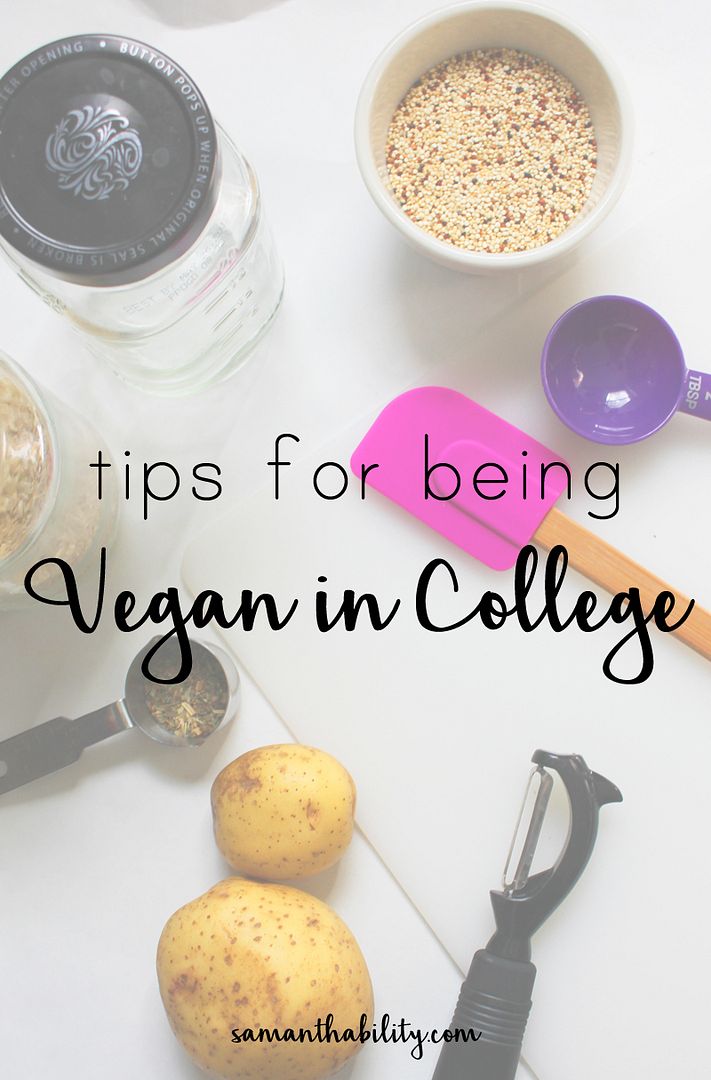 My Vegan Story
I have been mostly vegetarian for my entire life. I never liked the taste of meat, and only ate it occasionally because I was raised to believe meat was a necessity to maintain a balanced diet. I always preferred fruits, veggies, and grains, but I led my entire life believing this was not as important as eating meat. I was just really uninformed. Ironically enough, I used to make fun of veganism and the "difficult" lifestyle it promoted. However, I started to stumble across some research and documentaries emphasizing the benefits of a plant based diet. The first time I really gave veganism a thought was after watching Forks Over Knives on Netflix. My eyes were opened, and I started reading more to figure out what this plant based lifestyle was all about.
I challenged myself to a month of veganism this summer. Just one month to see if I can handle life without things like cheese and milk. Giving up meat was no challenge at all, since the taste was never appealing to me to begin with. However, cheese and I have always been very close. I suffered from legit withdraws while I adjusted to my new diet. While these were annoying, they only showed how much I had relied on dairy and sugary foods in the past. I started experimenting with new plant based recipes like quinoa with mixed veggies and chickpea tacos. I discovered that being vegan didn't mean giving up great food, and it even introduced me to some new favorites (bean quesidillas anyone?!). Vegan alternatives turned out to be just as good as the original, and here I am three months later still going strong.
While I am trying to live a vegan lifestyle, I'm still adjusting. I still accidentally buy products that have traces of animal products, and that's okay. I don't waste them, I just learn from it and move on. I'm learning as I go, and trying not to take things too seriously. I'm still accepting of other people's personal food choices. I love talking about the benefits of a vegan lifestyle, and how great it makes me feel, but I understand that not everyone is open to these changes. If you're interested in learning more about the benefits of veganism, here are some of my favorite resources:
Vegan in College
College is not exactly the healthiest environment. I've talked extensively on the amount of pizza running rampant on college campuses. I have my favorite local pizza delivery place set as a favorite contact on my phone. It can be hard to find vegan options if you don't live in a particularly vegan friendly town, or your friends aren't as open to vegan options. When I first challenged myself to a vegan-free month, I was worried about eating out and also cooking for myself. Luckily, I had nothing to worry about.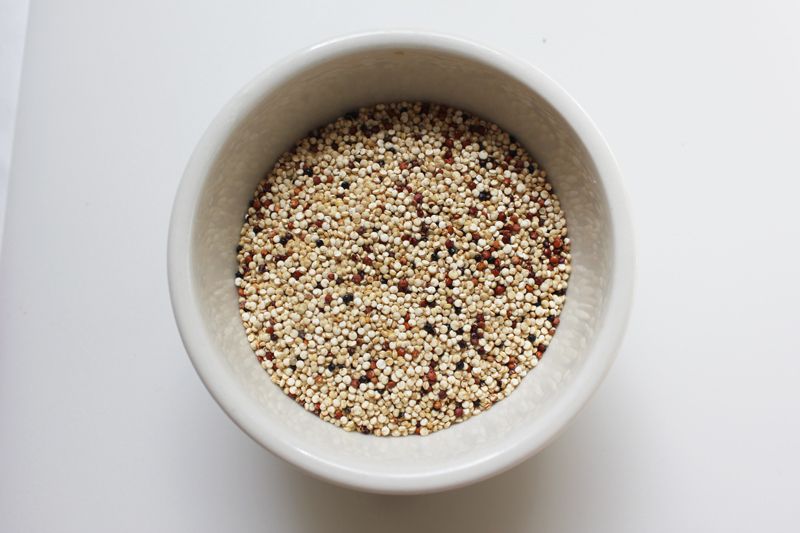 Surviving the Dining Hall
Most dining halls already serve a number of vegan options, they just might not be labeled. A salad or fruit bar are great go-to options, as well as the daily veggie choices. You can always ask a member of the kitchen staff to point out the vegan friendly options. It could help if you say you're allergic to dairy, since a lot of people don't understand what it means to eat vegan. Some schools allow you to register vegan as a dietary restriction, such as having a nut allergy or being gluten free.
I always recommend checking your campus dining website in advance to see their menu for the day. This can help you avoid awkwardly wandering around the dining hall franticly reading labels. All schools should have a vegetarian option for each meal, and these are usually easy to alter to fit a vegan diet. Regardless, here are some staple items to keep an eye out for:
Sandwich station: make your own panini or wrap filled with yummy veggies. Instead of mayo, opt for humus.
Pasta + tomato sauce = always delicious
Any and all veggies
Mix it up with the salad bar, adding rice or beans to keep things interesting
Always grab a fruit for the road
Stock your Dorm
Whether you're living in the dorms or in your own apartment, it's important to always keep vegan snacks on hand. Make sure they're filling and yummy, so you don't have to worry about getting hungry immediately after. Vegan diets are often very low in calories, so it's important to make sure you're always getting enough food. Spend some quality time getting to intimately know your local grocery store. I like to keep tortillas, rice, beans, and pasta on hand at all times for filling and yummy meals. Frozen veggies are also easy to make in the microwave and enjoy at any time! Fruits, granola, and even vegan cookies are great to store in your dorm! Just make sure your roommate doesn't steal them all!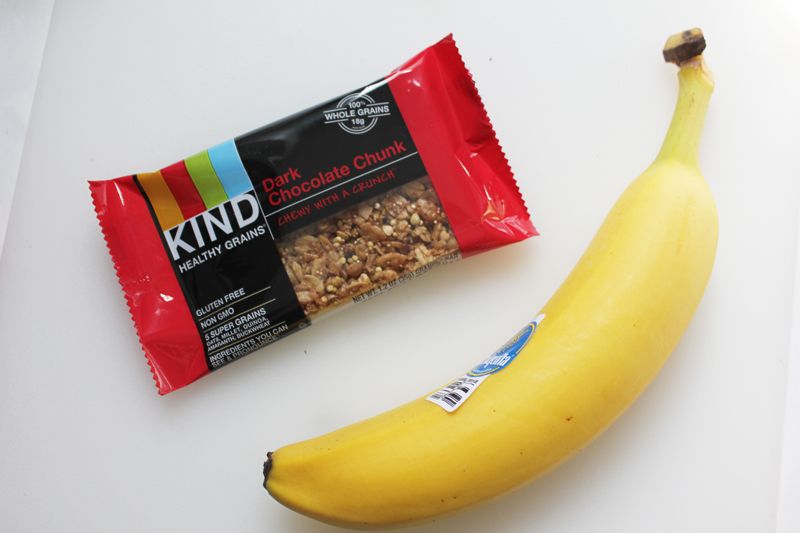 Eating Out
When I started eating vegan in college, I was worried about eating out. Everyone has heard horror stories of the vegan person who makes a huge fuss at the table and creates a scene over finding something special to eat. Luckily, it's never that dramatic, and I've never had any problem finding something on the menu. Keep in mind that you'll need to be flexible and open minded about finding vegan foods at restaurants.
If you have vegan or open minded friends, you can check HappyCow to scope out vegan and vegetarian restaurants near campus. Also, you can stick with Asian, Indian, or Mexican restaurants. These naturally have more vegan restaurants available than other cuisines. Most likely you will end up at more difficult places at some point, but don't stress, it's manageable. First, look up the menu in advance if you can to determine any easy choices. Vegitarian dishes are ususally easy to make vegan, so look for these first. If nothing seems to be working, you can create your own meal out of side dishes. A side of rice and beans with some sweet potato fries always works for me! Not to mention, these are super cheap! Be sure to let the waitor know you can't eat dairy!
Don't Stress
It can be easy to get hung up in the details of living a vegan lifestyle, but remember to be kind to yourself. You're going to make mistakes, and that's only natural. Being vegan in college is not as hard as it seems, and you'll learn more as you discover what works best for you and your school! What are your tips for eating vegan in college?